A satisfying conclusion to a really fun Batman-Flash crossover. I liked this issue. A lot. Here is the thing though... it is the weakest entry of the 4 parts. There were two 'reveals' in this issue (if you can call them that). The big reveal at the end only served to re-confirm what we've all known since Rebirth #1. It is kind of painful watching hints get dropped, when literally everyone already knows exactly what these hints are leading up to. The cover itself is a spoiler. And Jay Garrick's reveal was a little lack-luster. Especially since we all just witnessed Wally West's return unfold in basically the same way (minus Batman) when this series started. Having said that, this is still an essential buy for fans of Batman, Flash, or anyone interested in unraveling the mysteries behind Rebirth. Let's hope this one pays off down the road. more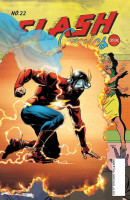 By:
Joshua Williamson, Neil Googe
"THE BUTTON" part four! The cataclysmic events of DC UNIVERSE: REBIRTH #1 continue here! The Dark Knight and The Fastest Man Alive, the two greatest detectives on any world, unite to explore the mystery behind a certain blood-stained smiley button embedded in the Batcave wall. What starts as a simple investigation turns deadly when the secrets of t...