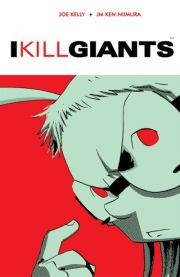 I Kill Giants Vol. 1
Barbara Thorson, a girl battling monsters both real and imagined, kicks butt, takes names, and faces her greatest fear in the bittersweet coming-of-age story called "Best Indy Book of 2008" by IGN. AICN says "…a great mini full of eccentricity, humor and humanity that I not only highly recommend, but hope to see get some well deserved attention come Eisner time."

Collects I KILL GIANTS #1-7!
| Rating | Collected Issues | Reviews |
| --- | --- | --- |