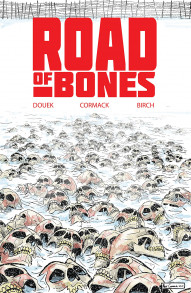 Road of Bones Collected
Horror, history, and Russian folklore collide in this brutal survival tale, where the worst prison in the world is merely the gateway to even darker terrors.
  
In 1953, the Siberian Gulag of Kolyma is hell on Earth-which is why Roman Morozov leaps at the chance to escape it. But even if they make it out, Roman and his fellow escapees still have hundreds of miles of frozen tundra between them and freedom. With the help of a mysterious being straight out of his childhood fairy tale stories, Roman just might make it-or is the being simply a manifestation of the brutal circumstances driving him insane?
| Rating | Collected Issues | Reviews |
| --- | --- | --- |