One of my personal favorite issues. It's a cross between Armory wars and Nate Simpson's Non-Player.
In this issue the title seems to be tweaked thematically. the question is no longer if Cyborg's a threat to humanity or someone that could help save it but who or what is the outside force that's controlling his alien cybernetic technology and what are their intentions? Is he being guided by a force of good or a force of evil? In this issue Cyborg is guided into another dimension. And when he arrives there he realizes that this dimension is inhabited by the same virtual video game world that him and his best friend of the past created while in summer camp. His best friend now goes by the name of H8-Bit and of course he trades blows with Cyborg. I'm impressed by how Will Conrad and Semper jr. depicts H8-Bit visor's as it can blink in and out on his face as he powers up and I thought that his pixelating powers were also unique. My favorite scene of the comic is when the two went back to Detroit very briefly. In this scene Will Conrad really shined. The ending was totally unexpected and it had me wandering if Cyborg's alien cybernetics actually gave his best friends his powers and also did it created the dimension in which the virtual world was housed? At
according to this issue Cyborg's alien technology grants Vic's all of his conscious and unconscious desires. more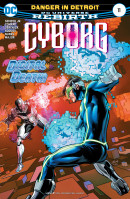 By:
John Semper Jr., Will Conrad
Severely damaged and on the run, Cyborg struggles to find his father as the Rat Lord engulfs Detroit with his army of rodents! But when the Rat Lord oversteps his boundaries, it causes a turf war within the criminal underworld. Introducing 8-BIT, who has the power to delete anything in his path-and he's looking forward to reuniting with Vic Stone!<...