I throughly enjoy Matt's writing style, particularly when it comes to dialog. It feels natural and effortless which grounds the characters in reality as their world begins to distort around them. Lisa's beautiful artwork really sets this book apart from a lot of other indie titles. It's loose and kinetic while still being detailed and informative. Her ability to draw facial expressions and emotive postures make all the story beats hit hard and elicit real emotion. It's very exciting to see original content from two long time horror fans and I can't wait to see the next issue. more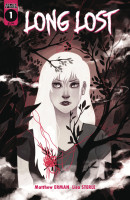 By:
Matthew Erman, Lisa Sterle
Stranger Things meets Ghost World in Long Lost, the haunting story of two estranged sisters who find themselves drawn back to their small southern hometown to unlock the disturbing mysteries that are hidden there, with all roads leading back to their enigmatic, secretive mother. Join Scout Comics as they proudly debut this comp...