If I could describe this issue I would say, weird story with a very good art team. Honestly saying I think that Robertos art catchs perfectly what the 90s vibes was and At the same time Ramos's art reminds me of those 80s British artists. Both artists got the weird idea of Bemis. Honestly saying this story is a weird match between 2 completely different spectros. One specific thing that hitted my mind when I was reading the story and them I search about it, Marcos ramos was the same artist of vampirella valentine's issue, we don't have some informations or any descriptions about him besides his deviant account, there I saw he's 23, so he's new at the industry and age! He has a great versatility on style and great narrative. I do love his work right now and I really wanna see his art at vengeance or sacred six, maybe some zombie stuff. He killed on it more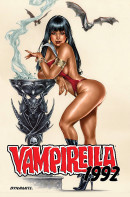 By:
Max Bemis, Marcos Ramos
Ah, the '90s, our strange yet dynamic link between the excess of the '80s and the pretensiousness of the aughts. A time when heroes were born, died and were reborn (again). Amidst all that creative chaos, the form of comics was torn between the muscle bound proliferation of All Things Pouch and the heady brew offered up by the British&nb...