I am by no means a "horror-fan", i am however a fan of engaging storytelling. Theres a long lineage of horror and gore in comics. Prior to the Comics' Code, Horror comic publishers were abundant, like EC Comics for example with their anthologies of horror stories. The comic codes' attempts at censorship only pushed these creators of the dark and macabre to work underground. what followed was a period of alternative comics that ignored the comic code authority. what followed? Underground comics full of nudity, drugs, sex, violence, and moral depravation. but why would someone want to read these? because they reflect a world that is VERY much real. Banning the image of a gun or a breast does not remove those things from the world. This is my approach to the genre of horror. Call me picky or pretentious, I watch and analyze even the most benign media. i analyze for substance, intended or unintended. Red Room Follows in the long tradition of absolutely brutal comics that leaves you a little more sketched out on the world.

The world of Ed Piskor's Red Room is a dark and twisted reflection on our own world. Stylistically Piskor makes great use of traditional comic-making techniques of the 1980s underground. The art is vivid, an effect perhaps from a combination of Duo-Tone, Zip-atone, Duo-Shade and a plethora of other tools. Each issue of the series will be standalone, so it doesn't matter if you get issue 1 or 2 or 3, you can jump right in. Red Room uses technology of today as a major plot element adding a lot of depth to the realism felt in these pages.

The Dark web is a thing we hear about on the news, or on documentaries. some of us have set aside some time to peek our head into it. Personally i have gone on there to just see what it was, and of course the dark implications immediately settle in. The stories of Red Rooms have long existed in american culture. even the story itself refers to Snuff Films as the predecessor to web cam murder shows.

the gore and violence that pops up throughout the story is intense, and horrific. Personally i had to read this comic in breaks, due to the sheer volume of depravity. Lines of dialogue stick to your brain and when you wonder why this is happening, a story beat changes. Do not expect a typical story or a typical slash fest. this story is a dark twisted take on the dark web and all the crime that takes place behind masked Ips.
more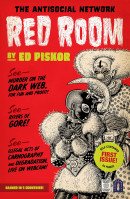 From the creator of Hip Hop Family Tree and X-Men: Grand Design comes this ALL-NEW monthly comic book series, with a specially priced, self-contained, double-sized debut issue! Red Room is a cyberpunk, outlaw, splatterpunk masterpiece. Aided by the anonymous dark web and nearly untraceable crypto-currency, there has emerged a subculture of criminal...