VALIANT has come out with a new book called, "Divinity". This book screams FRESH. Everything about it is new and original. The main character, Abram Adams, is a Russian. The story takes place in Soviet Russia where Russia has found a way to travel to the edge of the galaxy. Oh, did I say this a Sci-Fi book? Any-who, back to what I was saying. The book, story and even the characters are all new and original which is a nice change in pace than, lets say, a superhero comic. My favorite aspect of the entire book is that it's a sci-fi book. There haven't been much of those recently. Probably because everyone is losing interest in space and sci-fi but that is a topic for another time. The book makes you keep wanting more after each panel you read. There are underlying themes at play that I'd go into if I could get a grasp on some of them. For instance, there is a theme that the main character, Abram, wants to become a cosmonaut and he achieves that goal because he worked hard to get there.

I'm going to go into my pros and cons so you, the reader, can justify if you want to pick it up and read it.

PROS

-Sci-Fi book with an awesome story.
-Originality
-The art is breathtaking. I mean look at that cover.
-The pacing is perfect.
-Character development is perfect

CONS

-There is a confusing part of the book I can't seem to wrap my head around.
-A character named David. (The confusing part of the book)

That's it for the cons, really. The confusing part is not even that bad but it is confusing. I will probably read it once again but I won't understand it if I didn't the first time because that's just how I am.

All in all the book is FANTASTIC. I HIGHLY recommend it to EVERYONE. more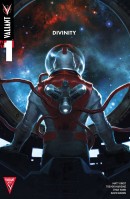 By:
Matt Kindt, Trevor Hairsine
At the height of the Cold War, the Soviet Union - determined to win the Space Race at any cost - green lit a dangerously advanced mission. They sent a man farther into the cosmos than anyone has gone before or since. Lost in the stars, he encountered something unknown. Something that...changed him.

Long thought lost and erased from the...