This was amazing! Valiant is putting out some incredible comics, perhaps the best in recent memory and this is in the top 10 single issues of their entire history.

Loved the twist, the big 'kill' and the ending. The art was as good as anything from the big two and the writing was maybe better. Highly recommended but be warned I am a Valiant fan and may be a little biased.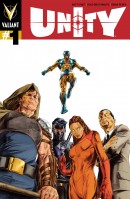 By:
Matt Kindt, Doug Braithwaite
To kill a king…he has created an army. The world's most dangerous man, Toyo Harada, has been struck by the one thing he never thought possible – fear. Halfway across the globe, a new power threatens to topple modern civilization and, to preempt the cataclysm that is to come, Harada will unite the most unforgiving team the world has ever known...