Kind of disappointed for the lack of answers, the feeling we were in circles and the little involvement Jay Carrick had, I was expecting more of him. However it had great moments, stupendous art and it is a great setup for what's coming next.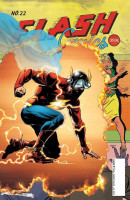 By:
Joshua Williamson, Neil Googe
"THE BUTTON" part four! The cataclysmic events of DC UNIVERSE: REBIRTH #1 continue here! The Dark Knight and The Fastest Man Alive, the two greatest detectives on any world, unite to explore the mystery behind a certain blood-stained smiley button embedded in the Batcave wall. What starts as a simple investigation turns deadly when the secrets of t...