Don't let the admittedly hilarious mash up idea that this book is, fool you into thinking it's a comedy. VOL 1 of this book was a wildly satisfying buddy cop crime drama with gut punch after gut punch. Go to your local comic shop now! Get the Vol #1 trade and this vol #2, issue #1. It's a blast!, Your welcome.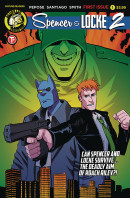 By:
David Pepose, Jorge Santiago Jr.
Suspended by Internal Affairs, Detective Locke grapples with the demons of his past alongside his trusty partner, his childhood imaginary panther Spencer. But when Spencer and Locke face a scarred soldier named Roach Riley, will this unlikely pair finally meet their match?