Kylo Ren A.K.A. Ben Solo, is an intriguing individual whos character arch needs to be explored more. The transition to the dark side is something that allows the Star Wars universe to explore a myriad of possibilities. The many factors in Ben's transition to Kylo Ren (Snoke, Knights of Ren, Han, Leigh, Luke and the remaining Jedi recruits) should get their spotlight. The first issue Is well drawn. The first issue was mostly setup for a few storylines and I expect that the upcoming issues will include more action for readers craving light saber battles and force powers. Not a perfect start but a good one. more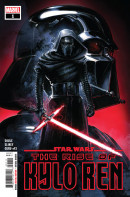 By:
Charles Soule, Will Sliney
WITH BEN SOLO'S FALL... COMES KYLO REN'S RISE!
Young Ben Solo is legendary Jedi Luke Skywalker's most promising pupil. As the son of Rebel Alliance heroes Leia Organa and Han Solo, as well as Luke's own nephew, Ben has the potential to be a great force for light in the galaxy. But the Skywalker legacy casts a long shadow, the currents of the da...