Written by Tom King
Artists by Evan "Doc" Shane
Interior & Cover by Mitch Gerads

Review of DC's Black Label, Strange Adventures

Tale of Two Heroes
In DC's Dark Label latest comic book from the writer Tom King who brought you the critically acclaimed comic book series, Mr. Miracle brings us a new action series fittingly titled, Strange Adventures. Adam Strange, born on Earth, lives a quiet and ordinary life as an Archaeologist. But during an expedition, Adam is engulfed in a ray of light and is suddenly whisked away to a planet called Rann. There, he becomes a guardian of the planet and valiantly decides to fight alongside the people of Rann against their oppressors. Meanwhile, the tyrannical empire called the Pykkt has begun its onslaught as their mission for world domination becomes closer to achievement.

Now with enemy forces knocking down the city walls, the decision to abandon everything is a dire option as well as irreparable. They may have lost the battle, but not the war. But leaving the planet Rann may be the beginning his Adam's problems. Though Adam, an American, is recognized as a war hero on Earth, there are few who believe Adam is a war criminal who has performed heinous acts and should be brought to justice. Tom King's newest series has a way to make the reader be absorbed into the story and why should that surprise you. He's going to take you for a ride that will soon be etched into your permanent memory. This series has the adventures, few kids dream of becoming a hero in another universe That gets the girl, the fame, and the notoriety. But someone is wanting this American hero stopped and will do anything to see Adan Strange fall from grace forever.
more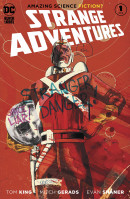 By:
Tom King, Mitch Gerads
After winning five Eisner Awards and topping year-end "best of lists," the comic book of 2019 was Mister Miracle. The comic book of 2020 will be Strange Adventures.
The Mister Miracle team of writer Tom King and artist Mitch Gerads are joined by fan-favorite artist Evan "Doc" Shaner to bring you an epic tale in the tradition of Watchmen, The D...