Excellent issue. I understand how the villain who is finally revealed as DoppelClark can be a polarizing character choice to many readers considering to his long, yet underwhelming past as a legacy character in the Superman rogues gallery. But the backup story written by Paul Dine & drawn by Ian Churchill really sells it. The backup story is perhaps the all-time best backup take I've ever read because although it's limited in it's size & content, it flawlessly delivers a heartbreaking tragedy for such a classic character who's been there ever since the Golden Age. Action #975 is the best single issue Superman story I've ever read in my whole entire life. more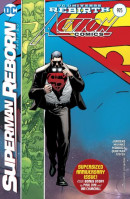 By:
Dan Jurgens, Doug Mahnke
"SUPERMAN REBORN" part two! Celebrating our 975th issue with a supersize special as another layer of the Superman/Clark Kent mystery is exposed! And in a backup story written by  Paul Dini with art by Ian Churchill, learn what it all means for the Son of Superman, who is the prize in a deadly game! The covers by Patrick Gleason and Mick Gray and ...