Despite not hooking me on the first issue, I gave the series a try because of the compelling and powerful character it has as its lead. But after this issue I'm considering wasting my time with anything else but reading America. Don't get me wrong, it wasn't that bad. But it feels like they are trying too hard to give the audience something they already had before starting. America is a relatable character on her own, before having her own series she was interesting enough to capture many people's attention. And here we are, one comic book series with nothing but a lackluster start. The plot isn't really clear, nor our main character's motive. And don't get me started on the forced latina archetype. We dont rub vipaporú on burns or mention chancletas whenever we are making threats, it doesn't feel relatable, it feels borderline stereotypical. Maybe I had really high expectations before this series came out, and now I'm bound to feel disappointed forever. One thing I know for sure? If Issue #3 is anything like this, I'm giving up on America. more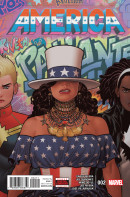 By:
Gabby Rivera, Joe Quinones
OKAY, LADIES, NOW LET'S GET IN FORMATION!!
•  America Chavez's first semester of college is off to an epic start. That's right...homework on the first day! The assignment? A field trip to the frontlines of World War II!
•  Most freshman would be intimidated - but most freshman aren't dimension-hoping heroes with Captain America as t...