The only thing that made this book a 6 was the artwork. Come read the rest of my review and find out why I yelled at my husband for getting me into comic books at dccomicgoddess.com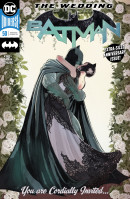 By:
Tom King, Mikel Janin
It's the wedding you never thought you'd see! The Batrimony is real as Bruce Wayne and Selina Kyle are set to tie the knot in a can't-miss, extra-length milestone issue that will reshape Gotham City. All their friends (and a few enemies?) will be party to a comic book coupling for the ages. Superstar scribe Tom King officiates the sure-to-be-offbea...