60 pages of annoying narration, awkward dialogue, gigantic heads, derivative tropes and plot points, and next to nothing happening. What waste of a Year One and DC Black Label title. And Toolsters? Really?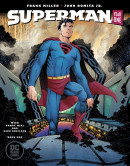 By:
Frank Miller, John Romita Jr
From the burning world of Krypton to the bucolic fields of Kansas, the first chapter of SUPERMAN YEAR ONE tracks Clark Kent's youth in Kansas, as he comes to terms with his strange powers and struggles to find his place in our world. DC BLACK LABEL is proud to present the definitive origin of Superman as rendered by the legendary comics creators Fr...