While not perfect, Batman: Damned is a return to form, reintroducing the long lost horror element to Gotham's Greatest and Grimiest. Lee Bermejo and Brian Azzarello have crafted a story that will go down as a modern classic, one of very few, and is an astounding follow up to 2008's "Joker" graphic Novel. Not to mention the art by Bermejo is as always ASTOUNDING!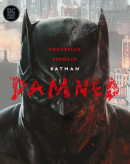 By:
Brian Azzarello, Lee Bermejo
The first new series from DC Black Label is collected in a spectacular new hardcover!
The Joker is dead.
There is no doubt about that. But whether Batman finally snapped his scrawny neck or some other sinister force in Gotham City did the deed is still a mystery.
Problem is, Batman can't remember... and the more he digs into this laby...