It was cool to see Joker run rampant to a level , I had never seen before. I am honestly glad it ended the way it did, focused on Batman's faith in Superman's morality as the reasoning behind Joker's motive to kill Lois was a coy nod to the game. The storytelling was there, but the pencils and colors on this was just like that World's End series : pedestrian. I hope Year One is not a new thing and some shit I just missed when the game first dropped.

* Like this ? Hit cvrthebard.tumblr.com
&
Audiomack.com/cvrthebard
For more content. more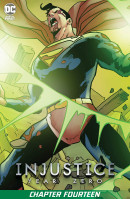 By:
Tom Taylor, Roge Antonio
Final chapter of Year Zero! After the destruction of the Hall of Justice, who is still alive? And where did the JSA go? Meanwhile, do old habits die hard for Harley Quinn? Find out here in the epic conclusion to the prequel to Injustice: Gods Among Us!