This is the book we need! Fun, bonkers crazy, wild, hysterical. Williams and Gomez have given us a dynamic treat. Get ready to laugh, scream, and enjoy the ride.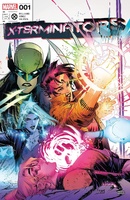 By:
Leah Williams, Carlos E. Gomez
ENTER THE GRINDHOUSE OF X!
When Jubilee and Boom-Boom agree to take Dazzler out for a night on the town to console her after her nasty breakup, they have no idea they're about to be kidnapped and put into elaborate death traps for their efforts! What are three girls with the power to blow things up to do? Leah Williams and Carlos G mez put the ...