This is certainly intriguing, the artwork is excellent, particularly the layouts. I don't get why that one guy gave away all of those clothes for free, what kind of business was he running, was he hoping to get laid or something? The issue ends quite abruptly, it felt a little short. I'm not sure if this is an ongoing series or a mini-series, a little write up at the end explaining the vision of this story would have been welcome. more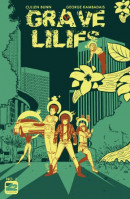 By:
Cullen Bunn, George Kambadais
In the aftermath of a mysterious explosion that tears through a major metropolitan area, five stasis tubes are discovered. The coffin-like containers are empty, but each is branded with a woman's name. These women have wandered away from the disaster without a scratch - and with no memory of who they are. They discover that they each possess a rema...