This issue was a pleasant surprise. I think the fun lies in the concept -- it toes the line between establishing some emotional weight for the characters, and still approaching from a place of surreal wackiness. I genuinely had no idea where it was going, and I loved that. The visuals are ok, but it was the narrative in this one that kept me reading.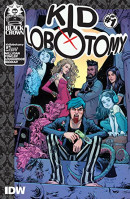 By:
Peter Milligan, Tess Fowler
Kafka meets King Lear by way of Young Frankenstein in KID LOBOTOMY, a dark, demented, monthly satire that follows a dysfunctional family of hoteliers. Will sibling rivalry, seduction, and shapeshifting eventually lead to sanity or salvation?
Big Daddy is a rich hotelier who, in a cracked echo of King Lear, appoints his youngest descendant to m...