Yeah, no. It feels like the writer has lost control of his story and is just making it up as he goes along, throwing in cliffhanger after cliffhanger and then his soluation can be summarized with the phrase "sh*t happens".

Nezha is unbeatable one moment but easily fought the next, characters constantly pulling new powers out of their assess to save the day.

You can do "dumb but cool" but there comes a point when the dumb outweights the rest of the plot and your story suffers from it. This needs some sort of internal consistency and rules because "uh, anything goes" gets old very fast.

Also, the fusion was wasted, to be honest. Cool concept, but really doesn't do anything other than get Batman and Superman out of trouble (and there were better ways to do that). more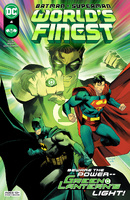 As Robin and Supergirl race to retrieve the secrets of the Devil Nezha from ancient China, Batman and Superman get more than they bargained for in the present! To save humanity from the fires of the demon, the World's Finest must go toe-to-toe with the protector of Sector 2814...Hal Jordan.