这期漫画你不用看编剧就知道一定是Scott Snyder写的。开会、分兵、潜入、被伏击,整个流程行云流水,从《金属》到《正义联盟》再到《死亡金属》前几期,全是这个套路。

You don't need to read the writer to know that this comic must be written by Scott Snyder. Meetings, division of troops, sneaking in, and being ambushed, the whole process goes smoothly, from "Metal" to "Justice League" to the first few issues of "Death Metal", it is all this routine. more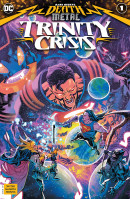 By:
Scott Snyder, Francis Manapul
With Superman freed from his New Apokolips prison, the classic Trinity lineup is reunited and ready to rock! Wonder Woman, Batman, and Superman amp up their power to launch an assault on Castle Bat, and that's just the warm-up act! Three walking nightmares are hidden deep inside the fortress-but these Dark Multiverse versions of the Anti-Monitor,...