After House of X, this was boring. Just like old Cable issues, I find it hard to care about new future characters. Also, 10 years between founding and present ignores the fact that it's been at LEAST 14 years Marvel time. This book sucks.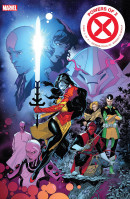 By:
Jonathan Hickman, R. B. Silva
FEAR THE FUTURE! Superstar writer Jonathan Hickman (INFINTY, NEW AVENGERS, FF) continues his revolutionary new direction for the X-Men. Intertwining with HOUSE OF X, POWERS OF X reveals the secret past, present  and  future of mutantkind, changing the way you look at every X-Men story before and after. You do not want to miss the next seminal m...