Okay, I gotta admit, this story arc finally captured my attention. After a tiny, tiny bit underwhelming beginning, finally side arcs begin to connect and create a bigger picture. The issue didn't answer any questions, in fact only introduced more, but i wasn't its point. The point was to connect few dots, without progressing the plot much further. Build the tension, make the mystery feel deeper and more complex, which I for once welcome. It's not the kind of pointless filler Tom King's Batman has become infamous for, nor Bendis' slug-paced heavily overthought bore. It feels like omething that shouldn't be told quickly, and with this particular issue, it works.

The art for the most part is beautiful, detailed, vibrant and dynamic. It's joy to just browse the comic, and analyze up close how it was inked and colored. March did really good job bringing Tynion's story and characters to life. With one notable exception, whose mug is on my avatar. Yeah... her. Harley, while surpriingly not annoying character-wise, like she usually is since Dini stopped writing her, looks... weird. And by "weird" I don't mean she's a victim of a mass murdering lunatic clown who abused her for years. Positioning of her eyes, nose and mouth look jut plain odd, unnatural. I have no clue why she's the only one who looks like she's mentally disabled, while the rest of the characters is perfectly fine, but I guess that's the way it is. more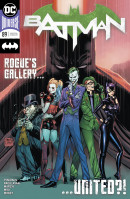 By:
James Tynion IV, Guillem March
Batman must stop Deathstroke from killing the mayor of Gotham City! But to do so he has to figure out who ordered the hit in the first place. If his four main suspects aren't 'fessing up to the crime, then is there someone even more sinister lurking in the shadows waiting to deliver the coup de grâce? Whoever it is, one victim will fall under thei...