Just when I thought Batman couldn't get any worse #30 comes around.... there is nothing here even remotely redeemable. King has completely destroyed Batman... siding with a villain not to mention one who has or will kill a child and just standing there like it's no big deal? This whole issue is pointless, just a depressed kite man's inner monologue wanting to know why people think he's a joke. It doesn't move the story along it doesn't give any new insight to the war between Joker and riddler just an emo kite man sulking. Absolutely awful...

**Edit** Ok I'm going to raise my score just a little. I do think a 1 was very knee jerk and unfair of me with the rating. I still do not like this book or King's take on Batman but it's definitely not a 1/10 book... more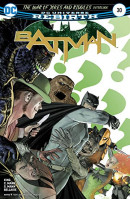 "THE BALLAD OF KITE MAN" part two! In our second "War of Jokes and Riddles" interlude, it's the making of a super-villain! He's been pushed by Batman to snitch on The Joker, and cajoled by The Joker to betray Batman-now, the flunky who would be Kite Man finally snaps. He's lost everything, and a life of crime is the only way to go.