At this point this is not only badly written, but totally disrespectful. There wasn't much respect before this issue, but this one seals the deal on impertinence. There should be negative rating for this awful writer and terrible excuse for a human being. Oh, and the editor needs to pack his stuff and go as far away from comics as possible.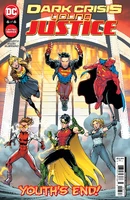 By:
Meghan Fitzmartin, Laura Braga
Superboy, Robin, Impulse, Wonder Girl,Arrowette; and Red Tornado are all reunited, but is it too late for them to face down the unmitigated and unhinged power of Mickey Mxyzptlk? Young Justice will have to let their old wounds heal quickly if they're going to escape from Mickey's fake universe and rejoin the real DCU to help join the final batt...