Art - 8 - not the biggest fan. but i have to admit the way it is pencilled conveys a lot of emotion, and i feel the panels are organized very well.
Story - 10 (holy crap HIckman is so good)
Cover - 7 (could have been better. I just feel like IMO the cover does not do justice to how EPIC this book feels. Variant covers are fine i guess. It's just too... crowded

At this point, I'm back to being an X-book fan and fully on board. Hickman's new status quo for the mutants are full of mystery, attitude, and the issue # 2 to his worldbuilding is quite frankly driving me nuts with anticipation. more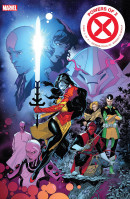 By:
Jonathan Hickman, R. B. Silva
FEAR THE FUTURE! Superstar writer Jonathan Hickman (INFINTY, NEW AVENGERS, FF) continues his revolutionary new direction for the X-Men. Intertwining with HOUSE OF X, POWERS OF X reveals the secret past, present  and  future of mutantkind, changing the way you look at every X-Men story before and after. You do not want to miss the next seminal m...