Overall, this issue has a lot of high points. The introduction is good, and sets up the next story arc to be an interesting one. The art by Todd McFarlane is stunning, but the issue starts to get lost towards the middle. As the issue progresses, things get more and more confusing, without getting any explanation as to what anything means. As the story arc progresses, hopefully we will begin to see what the events in this issue truly add up to but for now this issue just didn't do it for me. more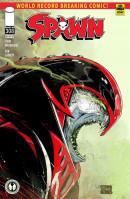 "EMBERS OF FATE"
Al Simmons has seen the future.

Now, the terrible consequences of his actions in SPAWN #300 and #301 will have a ripple effect that leads toward annihilation. His every victory and every defeat change his fate, and the fate of the world.

Superstar creative team TODD McFARLANE & PHILIP TAN ki...