The worst issue in the run so far. We (and Batman) already realized this is a dream last issue, this issue wallows in the surreal without doing anything with it. The scenes with Selina feel like a waste of time and Constantine isn't given room to breath. Ends up feeling like a knockoff 'For the Man who has Everything'.

This could've been partly saved by some cool art (like last issue) but it's stiff and bland feels like the opposite of a dream. more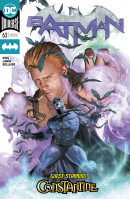 By:
Tom King, Mikel Janin
There are strange goings-on in the dark alleys of Gotham City, mysteries that will require a different skill set than the Caped Crusader's if he's going to stop the whole city from succumbing to the darkness. John Constantine, the Hellblazer, is a person with just those skills-but after the events of "The Witching Hour," is Constantine in any condi...