Liking this run so far. It's dirty and violent, perfect for a Wolverine series. It also is bringing something new which I was hoping for this new X-Men status quo, leaving Wolverine more and more alone away from the X-Men. Some of his best stories come from his solo series, I think he works much better as a solo character than as part of an ensemble. The art is also fantastic, Bogdanovic really mirrors Greg Capullo, and not even in a bad copy cat way, in a way that it similarly evokes the great details and action that Capullo draws with also. more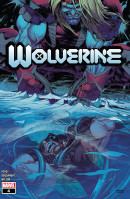 By:
Ben Percy, Viktor Bogdanovic
THE RED TAVERN!
After getting dressed down by the Quiet Council for rogue activity, Wolverine escapes through his own secret gate to the Red Tavern, a snowbound, backwoods watering hole where he only wants to guzzle whiskey in peace. But Logan soon discovers that peace isn't possible as a twist-and-turn murder mystery unfolds - and at the heart...